May 2006
-- Ratings Earned
Steve Woltosz earned his multi-engine, commercial, Instrument rating this month. Steve was on an accelerated program and almost achieved his goal in his desired timeframe. As is generally the case when time is of the essence, the airplane didn't cooperate. Good things happen to those who are patient. Fred Thomas was the flight instructor taking the bows.
-- Our Web Site has Changed
- and will continue to do so on a regular basis. So that you will see all these improvements, refresh each page when you first go to it. The page will refresh automatically on subsequent visits. Some of the changes are cosmetic, but we have added a number of new features.
You can schedule directly from www.flysundance.org.
We have added this newsletter archive. Expect it to grow as we add past newletters.
We have added an Events page. See this page for Sundance activities throughout the year as well as other local flying events.
-- What's Happening?
Check out our new Website and visit the section on Events. A few fly-ins are planned and it would be great if YOU joined the fun. Note the first trip is to Castle Airforce Base, Atwater, and a visit to the Air Museum.

-- What's going On?
Mountain Flying
Reprinted without permission of AOPA: But Great Reading on High Density Altitude.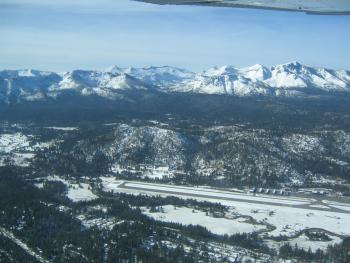 Spring is a wonderful season for aerial sightseeing. However, a passenger's desire to "get a closer look" needs to be managed properly. The tragic accident that follows illustrates this point all too well.
In May 2003, the pilot of a Rockwell Commander and his three passengers were killed when they crashed in the Sierra Nevada. The Commander left South Lake Tahoe at about 1:40 p.m. local time, destined for Santa Ana, California. The weather was reported as clear with more than 10 miles of visibility and a temperature of 91 degrees Fahrenheit. Before departure, the airplane was fueled with 35.2 gallons of fuel. The estimated weight of the Commander before departure was 3,175 pounds - 35 pounds over the certified gross weight.
A digital camera belonging to one of the passengers was found intact in the debris. The images documented the flight path departing South Lake Tahoe, flying over the Half Dome area of Yosemite Valley, and then proceeding to the southeast at an altitude well below the surrounding mountains. The flight was headed in the direction of a lake that the pilot's wife had camped at as a child.
The wreckage was found on a plateau in the Sierra Nevada at an elevation of 12,660 feet. Surrounding terrain ranged in elevation from 4,900 feet to 12,795 feet. The density altitude at the accident site was calculated to be 15,000 feet.
The pilot held a private pilot certificate, had more than 1,500 hours of experience, and had flown at least 40 hours in the previous 90 days.
The NTSB determined the cause of the accident was the pilot's failure to maintain an adequate airspeed while maneuvering close to the ground over mountainous terrain in a high-density altitude environment, near the upper performance capabilities of the airplane. All these factors lead to an inadvertent stall and crash.
Taking friends and family on sightseeing trips is a wonderful way to share your hobby and expose them to general aviation. Unfortunately, sometimes the pressure to please can yield bad results. This flight had the pilot departing over gross weight in high terrain, with even higher density altitudes over the route of flight. The rising terrain exceeded the capabilities of the Commander, and four people died as a result.
For more information about the hazards when flying in mountainous terrain, take AOPA Air Safety Foundation's Mountain Flying Online Course.
The Sundance Flying Club rules state No member may land a Club aircraft at an airport having a field elevation above 2500 feet unless they have a logbook endorsement for a MOUNTAIN checkout. If you want to fly in the mountains, it is a simple matter to schedule a Mountain Flying Checkout with the club. Not only is it instructive and an endorsement, but it is great fun too!
FYI: MILITARY INTERCEPTS AND FLARES
Military intercept procedures have been in effect for decades, but in this post-9/11 era, pilots have had to become more familiar with these procedures so they'll know what to do just in case they accidentally violate sensitive airspace. Now there is an addition to be aware of: flares. Flares can be used as another way to alert the pilot of the aircraft that is being intercepted. The use of flares during a military intercept is explained in Section 5-6-2 of the Aeronautical Information Manual: "If the U.S. military intercepts an aircraft and flares are dispensed in the area of that aircraft, aviators will pay strict attention, contact air traffic control immediately on the local frequency or on VHF guard 121.5 or UHF 243.0, and follow the intercept's visual ICAO signals. Be advised that noncompliance may result in the use of force." See the AOPA Air Safety Foundation's online course, Mission: Possible - Navigating Today's Special Use Airspace.